The Truth About Goodbye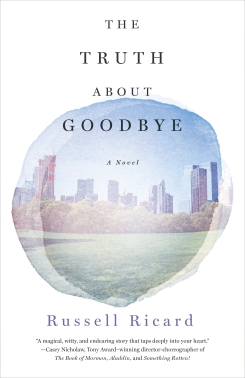 Published by WISE INK CREATIVE PUBLISHING
Sebastian Hart has dealt with a lifetime of goodbyes. And now, a year after his husband Frank's death, the forty-year-old Broadway chorus boy still blames himself. After all, Sebastian started the argument that night over one of Frank's former date-items, someone younger than Sebastian who still wanted Frank.
Challenged by his best friend Chloe, a quirky ex-Rockettes dancer, Sebastian struggles toward his dream of becoming a choreographer, and grapples with romantic feelings for Reid, a new student in his tap class.
Ultimately, Sebastian begins to wonder whether it's his imagination, or not, that Frank's ghost is here, warning him that he daren't move on with another love. He questions the truth: Is death really the final goodbye?
The Truth About Goodbye is a coming-of-middle age story about love, loss, self-acceptance, and renewal.
"The narrative is endearing and impressively assured. . . a warm, fun, character-driven tale about moving on and embracing life." ~Kirkus Reviews
Finalist: Foreword INDIES Book of the Year Awards
ISBN: 9781634897877